A good pair of trekking shoe plays a vital role during your trek. Also, there is a saying that you give a trekker the right kind of shoes, and they will conquer the world. Hence it is indispensable to choose trekking shoes wisely.
When you stomp through the woods, traverse through various ups and downs over rugged paths, rigorous terrains, each step becomes more stimulating. This may sound exciting to you, but have you equipped your feet for the same. Are they ready to take that load during the excursion?
Choosing the right trekking shoes is like finding a perfect life partner. The process takes time and is based on the kind of trek, the weather, trail condition and the duration of the trek. There is an array of trekking shoes available to choose from as per the size, style, fitting etc. But be mindful that it may take some time to break in before your outing.
Before you jump into finalizing a trekking shoe for yourself, be aware of the different types of trekking shoes available:
Hiking Shoes: These are lightweight shoes with flexible soles, similar to trail running shoes. The typical usage of hiking shoes is for short treks such as a day or two. It is a perfect choice if you do not plan to carry heavy loads on your trek. Hiking shoes are well-suited for dry terrains and warm weather.
Trekking Boots: This high-end version of hiking shoes comes with extra assistance for your feet and ankles. Trekking boots are usually constructed using leather, suede or synthetic like nova dry or gore-tex (GTX) and are stiffer. These trekking shoes are ideal for week-long treks, including carrying heavy loads. During long treks and rough terrains trekking boots provide extra support to your leg muscles. This helps to avoid occasional slips and twisted ankles. These are reasonably waterproof trekking shoes, hence good for snow, rain etc. The only problem with these shoes is that they constraint you due to that extra support and are heavier in comparison with hiking shoes. Trekking boots differ in their build, design and choice of patented material. They may vary in the price range from Rs. 4000 to as high as Rs. 15000 available from many renowned brands like LOWA, SALEWA, Quechua, Columbia, Wildcraft etc.
Expedition Boots: In case you are heading for a challenging trek that involves spanning tricky paths, glaciers etc., expedition boots are designed for the purpose. For trek period of more than 10 days or longer, these trekking shoes are well-suited. These boots have thicker outsoles with a robust fabric of construction. Expedition boots help in cushioning the feet with their insole padding. They have better ankle support in comparison to hiking shoes or trekking boots. All this makes these boots expensive too.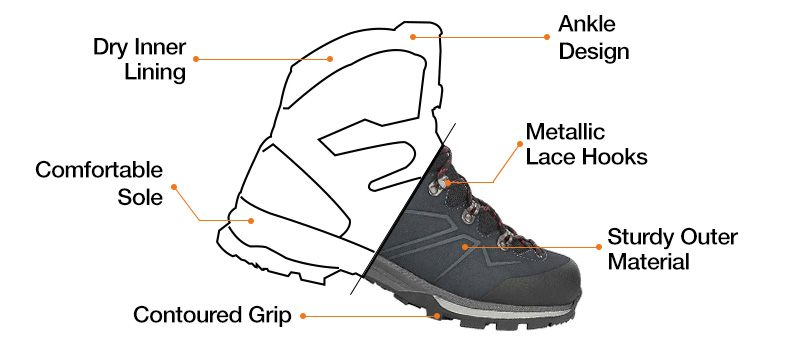 Various other features should be considered while choosing a Trekking Shoe:
Material: Trekking boots should ideally have industry-accredited material used in their builds such as Gore-Tex or Nova dry. The upper part impacts the weight, endurance and the water-resistance of the shoe. It is also important that the top material provides proper ventilation to your feet. It is made of mainly two materials: leather and synthetic. Leather shoes are the best option for ensuring durability, protection, and comfort.
Sole & Grip: 'Sole is the soul of a shoe'. The sole is where the convenience and durability of a shoe live. It provides stiffness to the shoes and cushioning to your feet. Therefore, a sole should be intoxicating enough to protect you from any caustic shock while walking on long, rocky terrains. The most commonly used material that you will find in your sole is: EVA (Ethylene Vinyl Acetate) and Polyurethane. Also "Vibram" Sole are pretty famous among trekker & mountaineer for its light weigh, durability & grip.
Design: Trekking shoes come in all different cuts, and a wrong cut could cause a rolled ankle or rocks in your shoes. There are three cuts to consider:

Low-cut:They are classic for lightweight, casual hiking, but this cut leaves you exposed to ankle injuries. Boots in this cut are best carried on well-maintained trails.
Mid-cut: This cut style allows more ankle support and balance, as well as a better defence from wreck along the trail.
High-cut: This cut is best for the adventurous hiker who is going on and off the trail, and traversing conceivably hazardous terrain.
Water or Dustproof: Wet feet would be the last thing to have during your trek, therefore, check your shoes for an added layer of pitch on the outside. Your trekking shoes should be water and dustproof so that when you step into a puddle of water or cross a river stream, the water does not get inside your shoes making it challenging for you to walk. Also, they should be breathable, else you will have an obnoxious stink in your feet.
Trek needs: Select the right type of shoes based on these factors like the duration of the trek, trail conditions: well-defined trail, rugged trail, rain, snow, glacial-pass traverse, and the load to carry. For warm, dry terrain use low-ankle hiking shoes; For cold, rugged conditions go for trek boots. Trekking on the glacier and extensive snow, on the other hand, will demand trek boots with crampon-ready features.
Choosing best fit: Right fit for a trekking shoe is very crucial, hence test the shoe well. It is said that ideally trek shoes should be bought a size larger than required. the reason behind the same being accommodating woollen socks on colder treks. Also, tight fit can give you blisters. Size is of high value since you are going to consume most of your time exhausting them. Know your size well, it must be large enough to have room to wiggle and wear them with appropriate socks. To avoid shoe bites, break in your boots before your trek. In case you are shopping online, obtain from the brand you have worn before.
So now that you have gathered all the information about choosing the right Trekking Shoe, invest well. Happy Trekking!
Shop for Branded Trekking Shoes with us!